Key Equipment
Protein diffractometer Rigaku OD XtaLAB Synergy Custom with robotics ACTOR
Rigaku OD (Oxford Diffraction) XtaLAB Synergy Custom with robotics ACTOR, set of instruments optimized for "home lab" diffraction experiments with single crystals of macromolecules.

Components :
Rigaku MicroMax-007HF, rotating anode generator of Cu Kα X-ray,
Rigaku VariMax VHF, optics to obtain an intense, monochromatic X-ray beam with adjustable divergence,
Rigaku OD XtaLAB Synergy Custom, 4-circle kappa geometry goniometer,
Rigaku Intelligent Goniometer Head (IGH), motorized goniometer head with automated optical object centering,
Rigaku HyPix-6000HE, large area hybrid photon counting detector of X-ray,
ACTOR, Automated Crystal Transport Orientation and Retrieval Robot, robotics for automated sample cryomanipulation,
Oxford Cryosystems Cryostream 700, low-temperature device for cryotemperature experiments.

Software: CrysAlis Pro

Guarantor: doc. RNDr. Jaromír Marek, Ph.D.
Technology/Metodology: X-ray Diffraction
Access mode: Full-Service Mode
Equipment placement: C12/115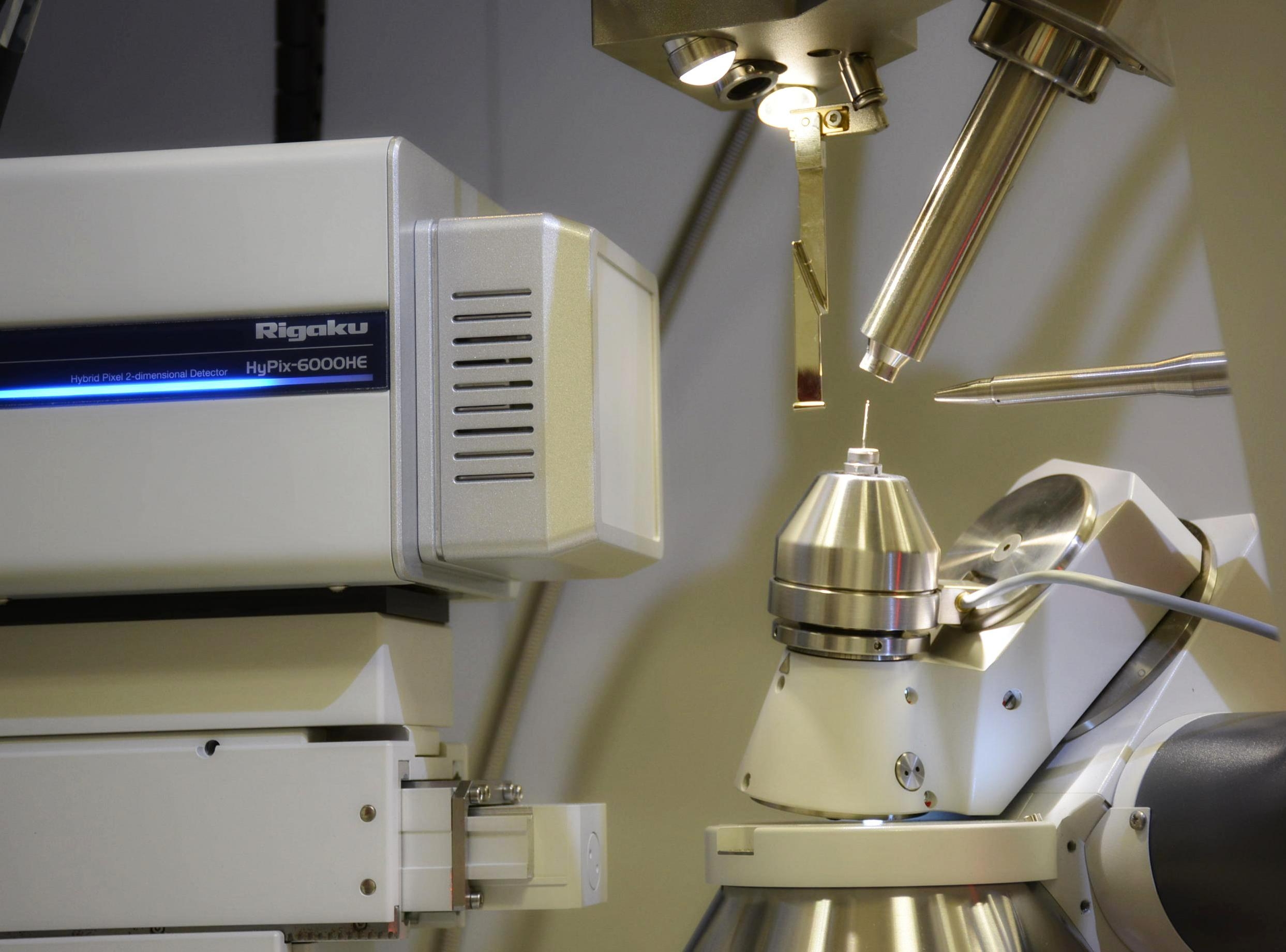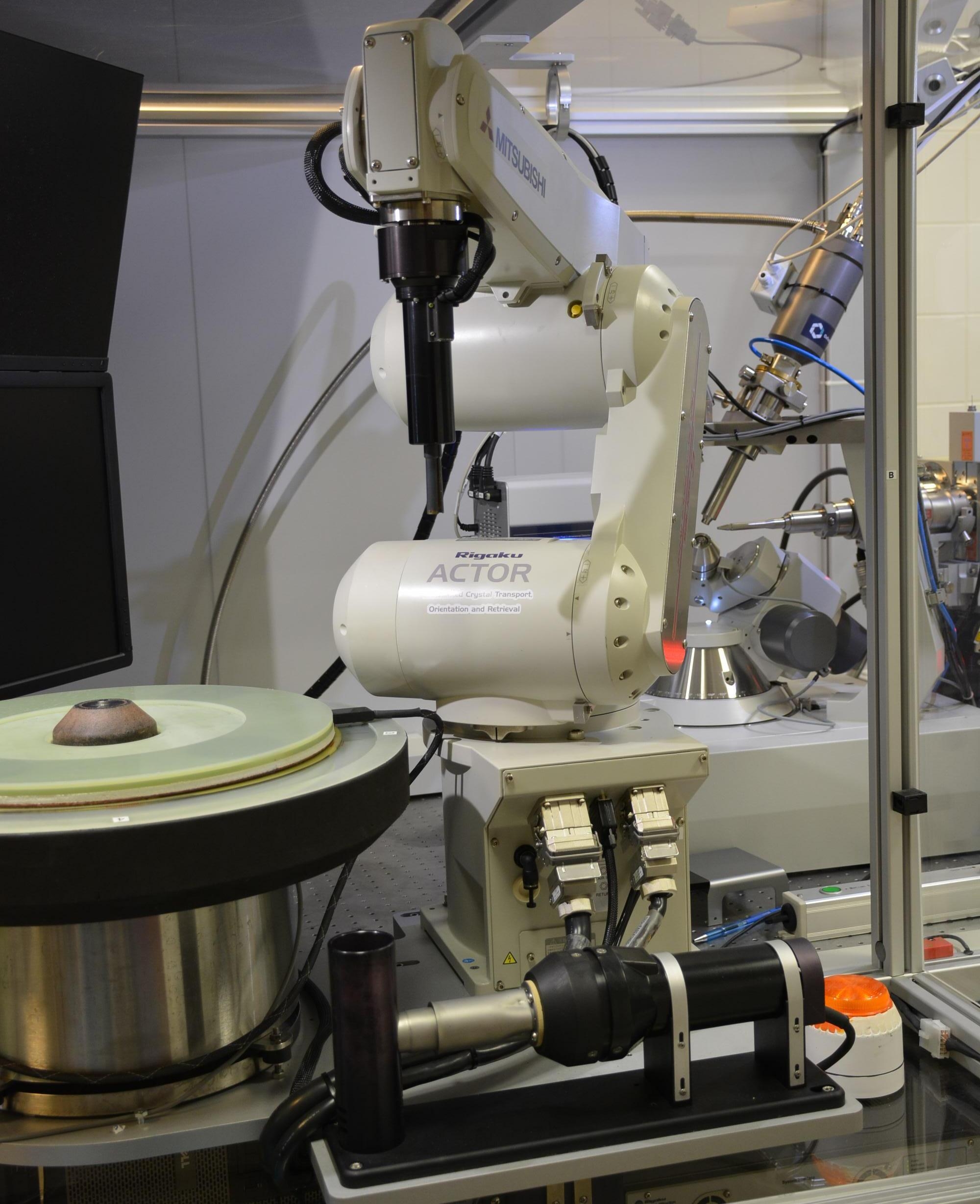 Universal Diffractometer Rigaku OD XtaLAB Synergy-DW Custom
Universal diffractometer Rigaku OD (Oxford Diffraction) XtaLAB Synergy-DW Custom, set of instruments for "home lab" diffraction experiments with single crystals suitable for solving of 3-D structures of biomacromolecules and chemical "small" molecules.

Components:
Rigaku MicroMax-007HF DW, rotating anode generator of X-ray with the ability to work at one of a pair of wavelengths (Mo-Kα or Cu-Kα ),
Rigaku VariMax DW , optics to obtain an intense, monochromatic X-ray beam with adjustable divergence,
Rigaku OD XtaLAB Synergy Custom, 4-circle kappa geometry goniometer,
Rigaku HyPix-6000HE, large area hybrid photon counting detector of X-ray,
Oxford Cryosystems Cryostream 700, low-temperature device for cryotemperature experiments.

Software: CrysAlis Pro

Guarantor: doc. RNDr. Jaromír Marek, Ph.D.
Technology/Metodology: X-ray Diffraction
Access mode: Full-Service Mode
Equipment placement: C12/115


SAXS camera Rigaku BioSAXS-2000
Rigaku BioSAXS-2000, camera for Small Angle X-ray Scattering (SAXS) experiments on biological macromolecules or nanoparticles.

Components:
Rigaku MicroMax-007HF, rotating anode generator of Cu Kα X-ray,
Confocal Max-Flux SAXS optic, specialized X-ray optic for use in SAXS applications,
Rigaku BioSAXS-2000, SAXS camera for "home lab" SAXS experiments,
2-D Kratky collimation,
Rigaku HyPix-3000, compact photon counting X-ray detector,
ASC, Automatic Sample Changer with support for up to 96 samples.

Guarantor: Mgr. Tomáš Klumpler, Ph.D.
Technology/Metodology: X-ray Scattering
Access mode: Full-Service Mode
Equipment placement: C12/115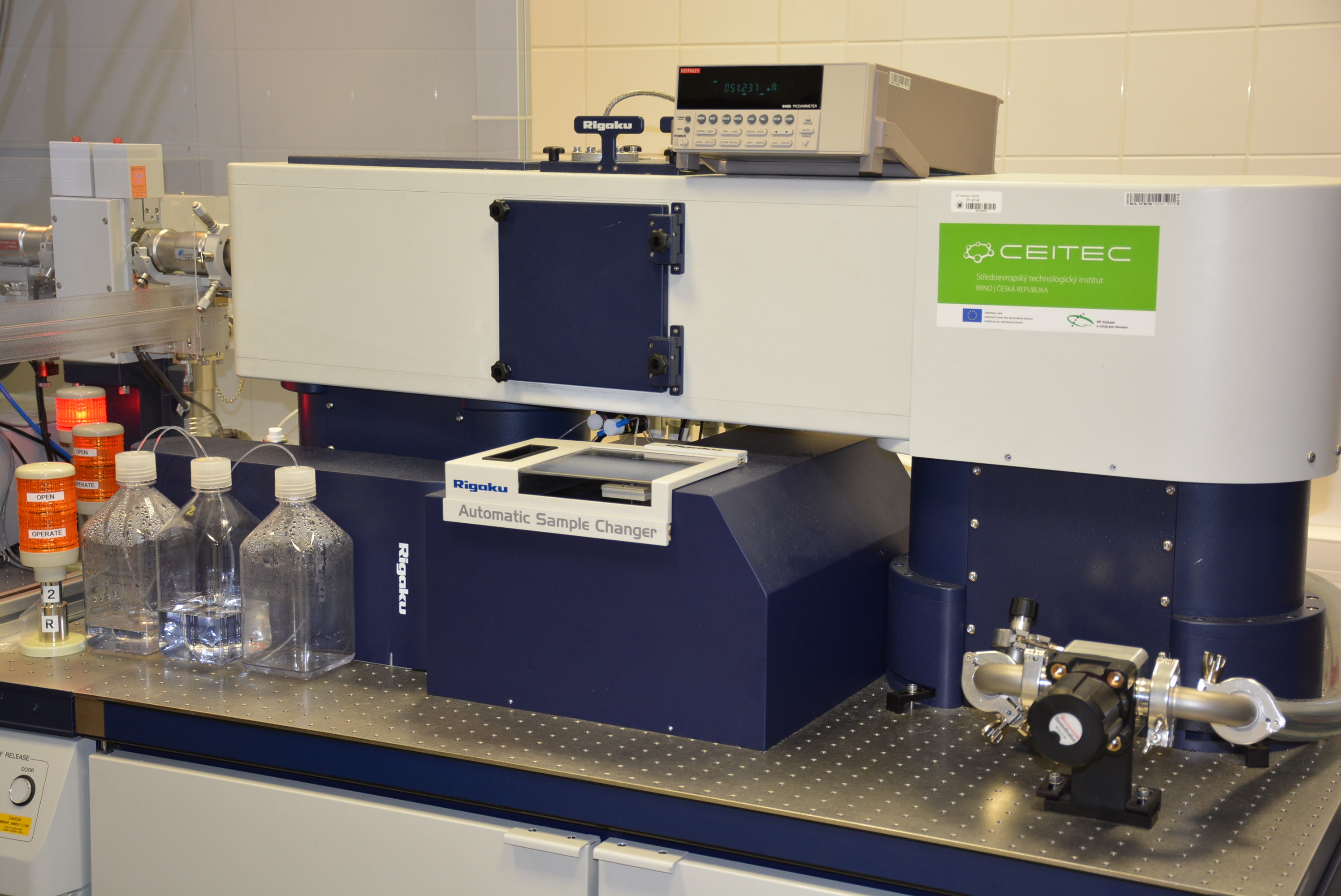 X-ray generators Rigaku MicroMax-007HF
The X-ray CF instrumentation uses as the X-ray source a pair of rotating anode generators Rigaku MicroMax-007HF. The first source generates Cu-Kα radiation and is used as a common source of X-ray for the SAXS camera (right port) and the robotized macromolecular diffractometer (left port), the second source can be switched between two wavelengths (Mo-Kα or Cu-Kα) and is used by the universal single crystal diffractometer.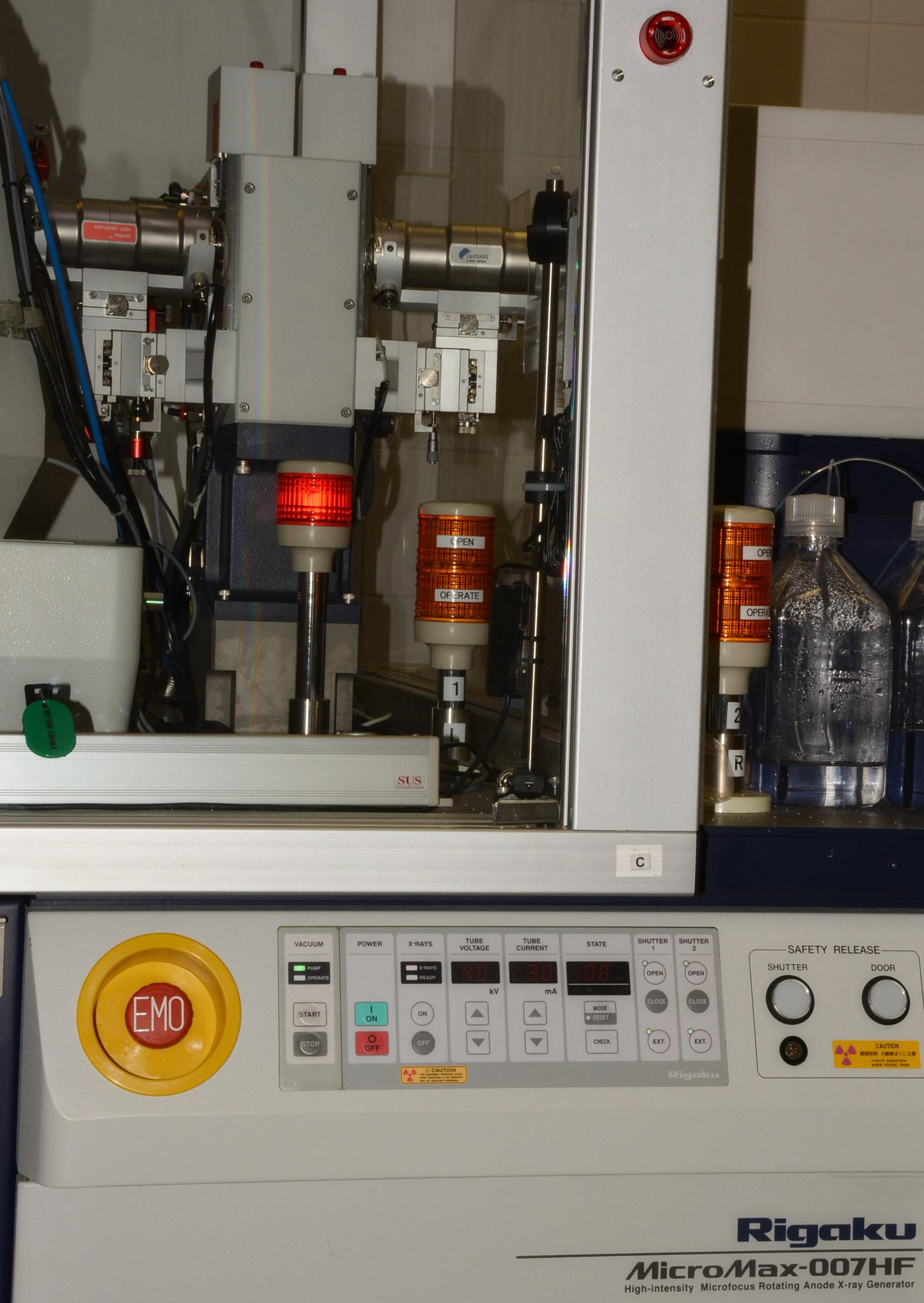 All X-ray CF equipment operates in Full-Service Mode.
Material
In CF it is also possible to rent material for storage and transport of samples (e.g. protein crystals) at a cryotemperature (approx. -190˚C):
Dry shippers CX 100 (Taylor-Wharton / Worthington Industries) - up to 4 pieces
Taylor-Wharton Cryo Express dry shippers CX100 are designed to transport a variety of materials safely at cryogenic temperatures. Meets IATA (International Air Transport Association) requirements for transportation of non-infectious biological samples.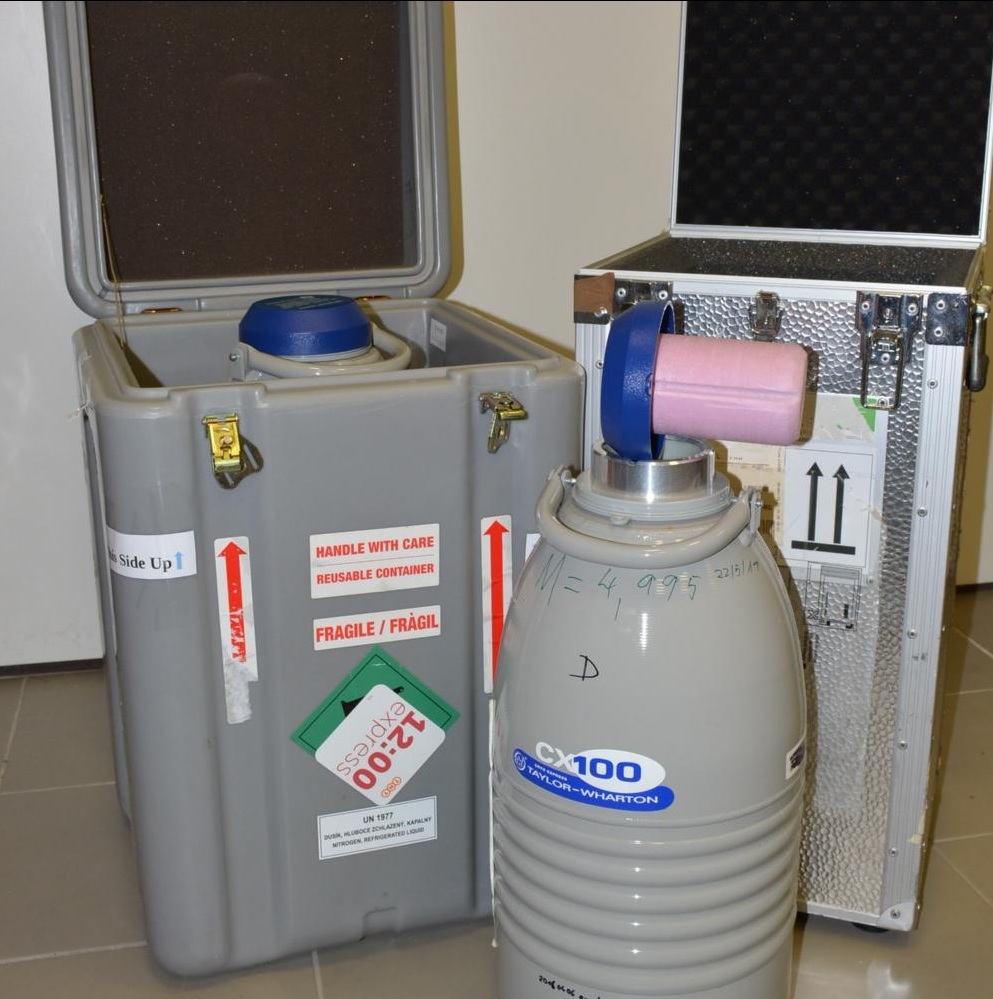 SPINE pucks and their holders for CX-100 (up to 4 holders with 5 SPINE pucks)
The SPINE pucks can be loaded with 10 samples placed in magnetic vials. The SPINE standard is the sample holder format accepted by most sample changers available on synchrotrons in the EU.


Uni-Pucks (Universal V1-Pucks) and their holders for CX-100 (up to 2 holders with 7 Uni-Pucks)
The Uni-Puck is a sample pin storage & shipping container compatible with many automated sample mounting systems. It holds 16 sample bases/pins and consists of two parts: the sample enclosure and the sample base piece.