14. Feb. 2020
For the 11th year in a row, JCMM has rewarded young scientists and experts with three years of financial support, so that they can fully focus on their research. As in previous years, several CEITEC students were awarded. Eight students received the award from the Mayor of Brno, Marketa Vankova, during the ceremony on 14th February, 2020. Five of the awardees are studying in the Advanced Materials and Nanosciences doctoral program at CEITEC BUT, and the other three are studying in the Life Sciences program at CEITEC MU.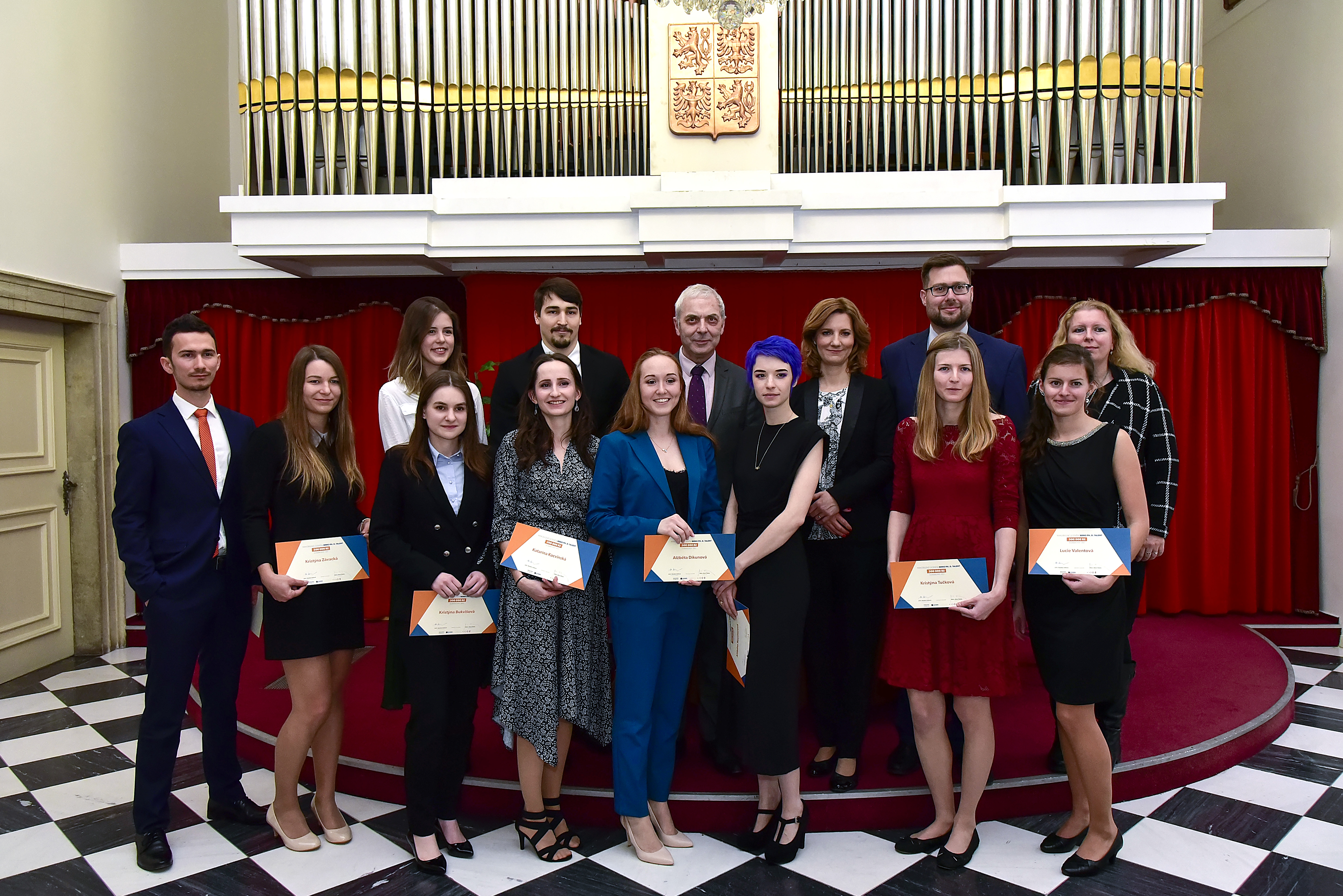 Five of the awarded PhD students are doing their research at CEITEC BUT: Kristyna Bukvisova, Katarína Kacvinská, Alžběta Ressnerová, Jan Zítka, and Jorge Andres Navarro-Giraldo. Kristýna Bukvišová is dedicated to new systems that will allow nanostructures to grow in the area of ​​electron microscopy. She is a member of the Fabrication and Characterization of Nanostructures team, led by Tomas Sikola. Katarina Kacvinska is dedicated to the development of new medical materials that will cover wounds, such as burns. They contain not only an antibacterial component, but also accelerate healing. These topical materials are based on natural biopolymers. Katarina works in Lucy Vojtova's Advanced Biomaterials Research Group. Alzbeta Ressnerova focuses on smart nanodevices, and plans to use nanodevices for accurate gene modification. She works in the research group led by Jaromir Hubalek. Jan Zítka is developing the Point-of-Care diagnostic system. This could soon be an integral part of general practitioners' surgeries. Lastly, Jorge Andres Navarro-Giraldo works in a group focused on Magneto-optical and THz Spectroscopy, and will also receive an award for his research.
The three awarded students enrolled in the Life Sciences PhD School at CEITEC Masaryk University are Alzbeta Dikunova, Kristyna Tuckova, and Lucie Valentova. Alzbeta Dikunova is from the Richard Stefl Research Group and is investigating in the structural biology of gene regulation. The aim of her research project is to answer basic questions about the regulation of mammal transcription, while using a combination of electron and fluorescent microscopy. Understanding how specific processes take place in the body and which molecules participate in them will allow scientists to fight the pitfalls associated with the failures of individual cells. "One of my main goals is the development and optimization of the unique method of preparation of recombinant human RNA polymerase II. If successful, this unique approach could open us the door to many other experiments leading to testing our hypotheses in the field of transcription regulatory mechanisms," said Dikunova.
Another awarded student is Kristyna Tuckova from the Karel Riha Research Group. Kristyna Tuckova is investigating plant molecular biology, and her main interest is synthetic biology. This multidisciplinary research area is a combination of biology and engineering, which allows for the design of cells with new properties that do not normally exist in nature. Kristyna develops methods concretely for single-cell algae called Ostreococcus tauri, which has great potential in a number of biotechnological applications. "I would like to use this algae as a system for the expression of membrane proteins, because their production is normally very difficult. Furthermore, these algae could serve us for the development of methods for analysing the structure of proteins at the atomic level," added Kristyna.
The third awarded doctoral student is Lucie Valentova from the Pavel Plevka Research Group of Structural Virology. Her project focuses on the study of so-called bacteriophages – phages are viruses capable of killing bacteria such as Pseudomonas aeruginosa, which cause urinary tract infection, pneumonia, and septic shock with potentially fatal consequences. The treatment of infections caused by these bacteria is very difficult because they form a biofilm that protects them from the effects of antibiotics. Unlike antibiotics, bacteriophages are able to attach and kill bacterial cells despite the biofilm. Lucie Valentova is studying interaction of bacteria and phages using cryo-electron and fluorescence microscopy. "Resistance of bacteria to antibiotics is a serious medical problem. The results of our research and our findings could enable the development of phage therapy against bacterial infections and contribute to its introduction into clinical practice," stressed Lucie Valentova.
"I am proud that doctoral students working at CEITEC have repeatedly ranked among the finalists of the Brno PhD Talent competition. CEITEC is taking many proactive measure to create good conditions for young researchers and their career development, and I am glad that this is clearly happening," added Jiri Nantl, Director of CEITEC MU.