Feedback to Welcome Office services
"My wife and I really appreciated the Welcome office services provided by Zdenka. We received really useful tips and information before coming to Brno about almost everything, including finding accommodation. Her help was especially useful and efficient for the paperwork regarding the resident card for my wife. She even kindly went with us to the immigration office. Thanks to Zdenka, we saved a lot of time and energy for our relocation. I did a lot of post-doc around the world where there was no such service helping foreigner to settle down, and most of the time no service at all! Therefore, the CEITEC Welcome office is a very good idea and the service provided is really beneficial."
Dominique Arnaud, PhD
Senior Researcher
Jan Hejátko Research Group - Mendel Centre for Plant Genomics and Proteomics
"Mrs. Bartova is a really reliable person, able to provide a foreigner about all the procedures/documents needed for visa application, accommodation, introduce him/her to all his/her duties before and after arrival to the Czech Republic. This information is supported by relevant web links, maps, clearly classified so that the person could know step-by-step what should he do. In addition to this, I contacted Mrs. Bartova many times before and after coming to the Czech Republic, and she always replies to me within a short period (maximum 24 hours). I appreciated her pleasure to help any foreigner/student to achieve various tasks. If the task isn't on her agenda, she could tell me who's the exact person to contact. I am highly satisfied with the help provided to me."
Bilal El Kerdi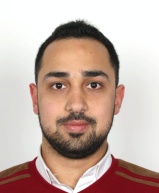 Research Specialist - PhD Candidate
Peter Lukavsky Research Group - Centre for Structural Biology
"Zdenka´s valuable emails containing all the details of instructions on what to do/documents that I need to prepare before I came and once I reached Brno are indeed really helpful. It would be a really hard time for me if not because of that. She also helped and accompanied me on my way to the Foreign Police, and that is another service that I like about the welcome office. She made me really feel welcome. The welcome office, especially Zdenka does her job excellently in making the transition of moving to CEITEC smoothly and easy. I highly commend and appreciate her effort, and it was a job well done."
Katrina Leslie Nicolas
Research Specialist - PhD Candidate
Jan Hejátko Research Group - Mendel Centre for Plant Genomics and Proteomics
"I was helped by Zdenka Bártová for the process of my relocation to Brno. I had a very positive experience with the Welcome Office. I am very happy with the level of personalized care that was given to my relocation, and honestly, this has been the best experience with an HR department that I have had in my carreer to date. To sum up, the services were top quality, and Zdenka has been a really indispensable help to my relocation. I have nothing but positive feedback to offer."
Panagiotis Alexiou
Researcher/Head of workplace
Panagiotis Alexiou Research Group - Centre for Molecular Medicine
"In my opinion the Welcome office service is really helpful. I think without this service, it would be really tough to get the right information about various things like residence permit, rental contract, family reunification visa, applying driving licenses etc, which are very important for smooth transition to CR. Because language barrier is a big problem here when dealing with these bureaucratic/administrative things."
Anil Paul Chirackal Manavalan
Research specialist – postdoc
Dalibor Blažek Research Group - Centre for Molecular Medicine
"As a welcome manager, Zdenka had done a wonderful process for my journey preparation to Brno settlement. As per me, she has given her input and full efforts in each stage from my preparation and till now. As new to Brno and also I don´t know the local language in this country, she has understood my troubles and sent me each and everything in both Czech and English. For example: while searching for accommodation, she only guides me few websites, also said about the cost of living and other things to live in Brno. Brno to be a new place, I have asked several questions through email, but she never gets irritated or angry, always with pleasure and smile she helps me. I am thankful for this and a person like me as a foreigner, without that, I can´t get the hope. After my arrival also, she has given the welcome kit and tell the clear initial steps to proceed, and while I get some issues in my accommodation registration in the foreign police office, she has taken care of that and followed that. Till the issue clearance, she follows that, and that has solved. I am thankful for her help, care and work. I can´t say anything negative about this service for sure."
Selvaraj Chandrabose
Postdoctoral Research Fellow
Jaroslav Koča Research Group - Centre for Structural Biology