TALKS
---
Introduction of the RICAIP Project by Prof. Pavel Václavek (RICAIP Project Coordinator at CEITEC BUT)
Utilization of artificial intelligence, decentralized laboratory connection, and networking for application development and validation in modern, automated industry in Europe. The RICAIP project, thanks to the support of 1.3 billion crowns, will enable the creation of a research and innovation center at the CIIRC CTU in Prague and CEITEC BUT in Brno. The Czech Republic is thus able to establish itself as a leader in the field of advanced industrial production of the future.
---
Smart region - a way to transform the quality of life in the South Moravian region by Jiří Nantl (Deputy Governor of the South Moravian Region)
In the last twenty years, the South Moravian Region has established itself as a region of European importance in the field of research, development and innovative entrepreneurship. The current ambition is to build on results and focus on public sector innovation. This innovation should respond to the basic long-term needs of the region, mainly preparation for the systemic solution of environmental challenges and support of smart solutions for the transformation of health and social services within one generation. Participants will acquaint with the starting points, course and current state of work on this concept of a smart region in South Moravia.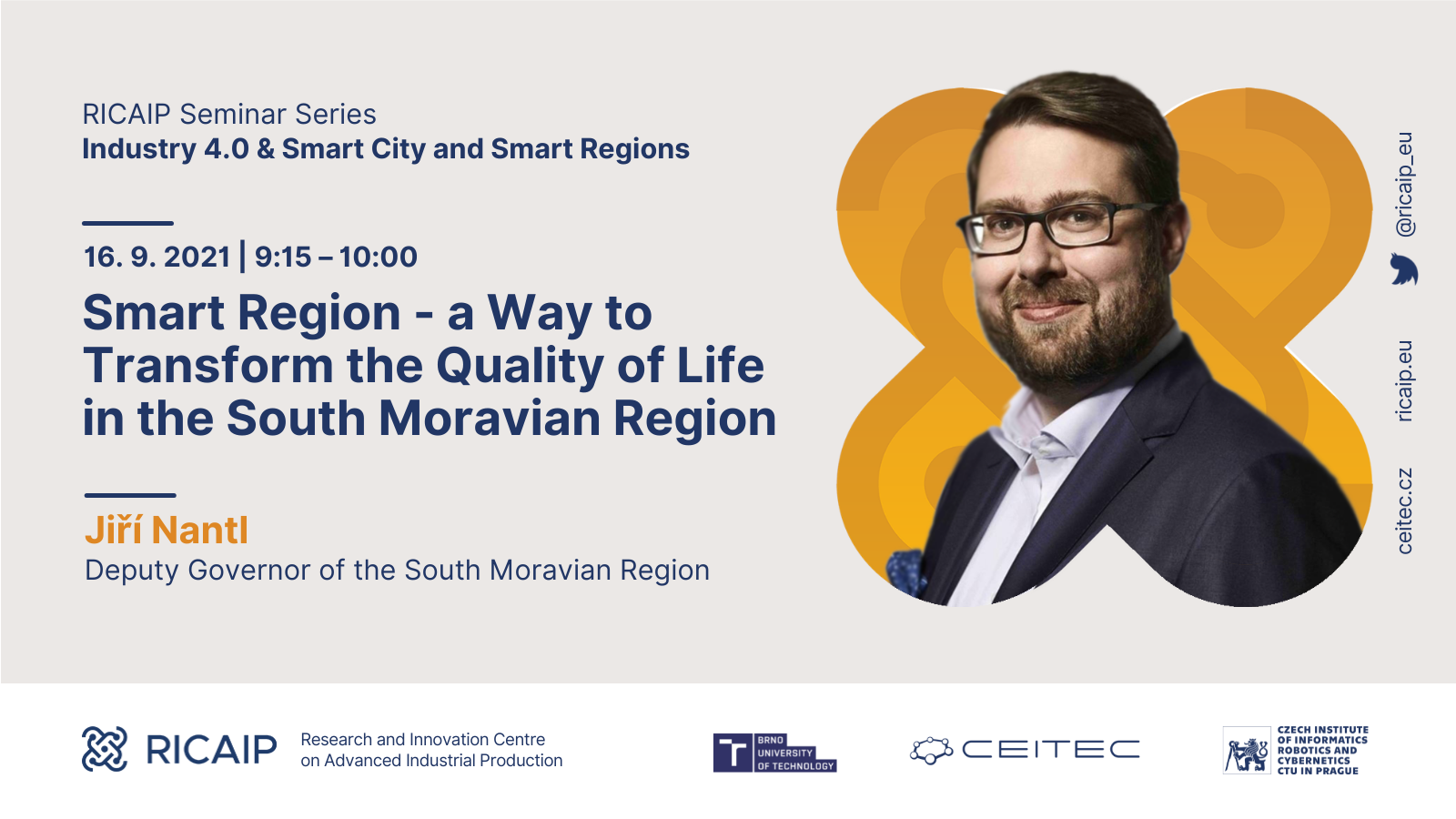 ---
Brno as the Lab of the Future by Romana Gábrlíková (Research Transfer & Talent Development Specialist), Eva Holzová (Smart City Projects and Events Manager) & the rest of Development and Cooperation Department Team
The history of Brno's investments in innovation dates back to 2009, when Brno for the first time supported projects for the development of innovations, such as "Brno PhD. Talent" or "Inovation vouchers". Since then we draw key stakeholders into the discussion about priority needs and topics so our city develops into innovative living lab. Our vision is that the city is the "customer zero" for solutions that are developed by local firms or research organizations so we can work together on implementation of innovative solutions.
---
Living Lab Židlochovice by Jan Bárta (Brno.AI Coordinator, JIC)
The city of Židlochovice is very active implementing innovative solutions in the field of sustainable and technologically. The goals in the currently developed residential district "Chytré Líchy" is to achieve carbon neutrality, significant savings in drinking water and a reduction in individual transportation through technological and social innovation. Židlochovice is becoming a living lab where we are open to test solutions leading to the achievement of these goals, and making life easier, including the application of AI.
Photogallery