16. Sept. 2022
CEITEC MU and the four faculties located on the Bohunice Campus of Masaryk University have signed a Memorandum on the joint implementation of doctoral study programmes and professional development of postgraduate students. The Faculty of Science, Faculty of Medicine, Faculty of Sports Studies, Faculty of Pharmacy and CEITEC MU have jointly taken this vital step, which will allow them to implement a joint framework for cooperation in their doctoral study programmes and the professional development of their postgraduate students. By signing the agreement, all partners declare their interest in joint contribution towards improving the quality and efficiency of education of early-stage researchers.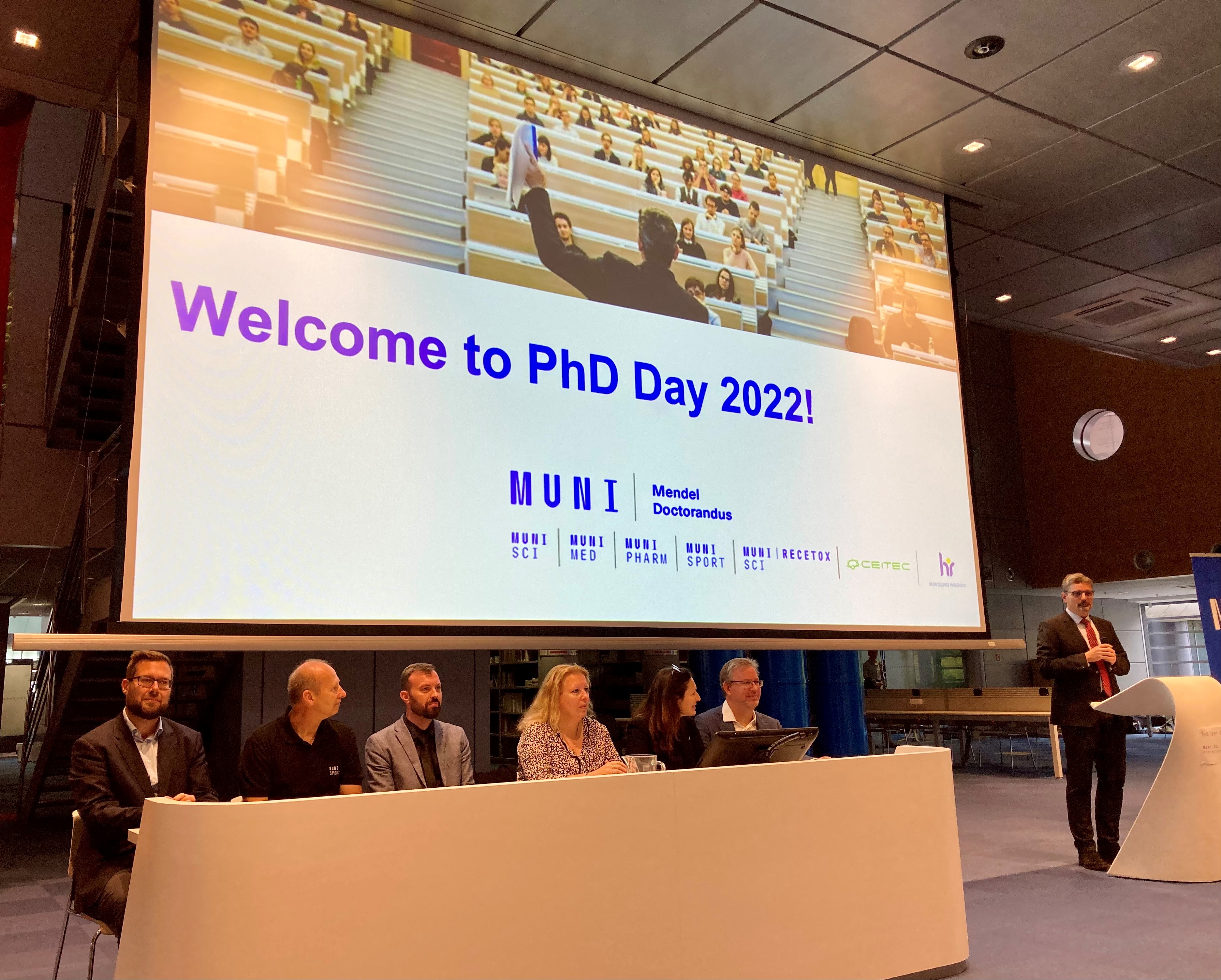 The partnership agreement defines processes and activities such as the accreditation of the doctoral programme, representation in the scientific councils, admission procedures, selection and appointment of supervisors, implementation and delivery of the studies and funding. The cooperation under this Memorandum also aims to streamline the planning and execution of activities related to doctoral students' professional development and support. One of the innovations will be the joint organisation of student training in transferable or soft skills, particularly in the form of regular courses, seminars or workshops. For efficient sharing and use of information, a shared database is planned to provide general information about individual events (name, date of the event and brief content), but also information about the availability of the course for students of other faculties. This will allow students to access a broader range of courses with better quality.
"The professional development of PhD students as a new generation of researchers is a shared responsibility of the entire university. Often several different departments are involved in the process. Therefore, it is important that we set common rules and a transparent environment for students so they can focus on their research and studies," says Jiri Nantl, director of CEITEC Masaryk University.
The campus faculties will continue jointly organising the popular multidisciplinary educational seminars called the Life Sciences Seminar Series (LSSS) and Principal Investigators Seminars (PIsS). The LSSS is managed by a committee of campus representatives from the life sciences and aims to feature internationally renowned scientists in the field. The organisation of PI Seminars is entrusted to CEITEC MU and aims to present research of principal internal investigators (PIs) from the life science fields based at the Bohunice campus. From now on, joint student conferences and networking events for PhD students will be organised to connect doctoral students across the entire campus. Typically those conferences (PhD retreats) are organised directly by students and consist of a scientific programme and accompanying educational activities.
The faculties will also assist each other in mentoring activities. Mentoring students by advanced scientists, researchers or lecturers is a powerful tool for students' development that requires the mentor to be an experienced person in the particular area addressing a student's need. Sharing mentors who are willing to engage with students in this sense broadens the portfolio of expertise offered and brings added value to all involved parties. As a good practice, Thesis Advisory Committees (TACs) can optionally be introduced for individual degree programmes, providing the student with the opportunity to be mentored on a long-term basis throughout their studies. TACs have been successfully implemented at CEITEC MU. For a TAC to function well, at least one member must be from a different department than the student and his/her supervisor. The collaborating parties fully support the participation of external staff in TACs, and reciprocity is expected. Other joint activities will include career guidance for students, promotion and advertising of doctoral studies, and sharing common quality standards in doctoral education.