10. Dec. 2019
Brno – Tokyo. The international co-operation of the research group on Materials Characterization and Advanced Coatings from CEITEC BUT with Rigaku, has resulted in the signing of an agreement to extend cooperation. Rigaku is a global manufacturer and distributor of scientific, analytical and industrial X-ray equipment. Thanks to the cooperation with this company, several CEITEC students have already traveled to Japan to participate in research and development of the new X-ray tomography and imaging software in Rigaku.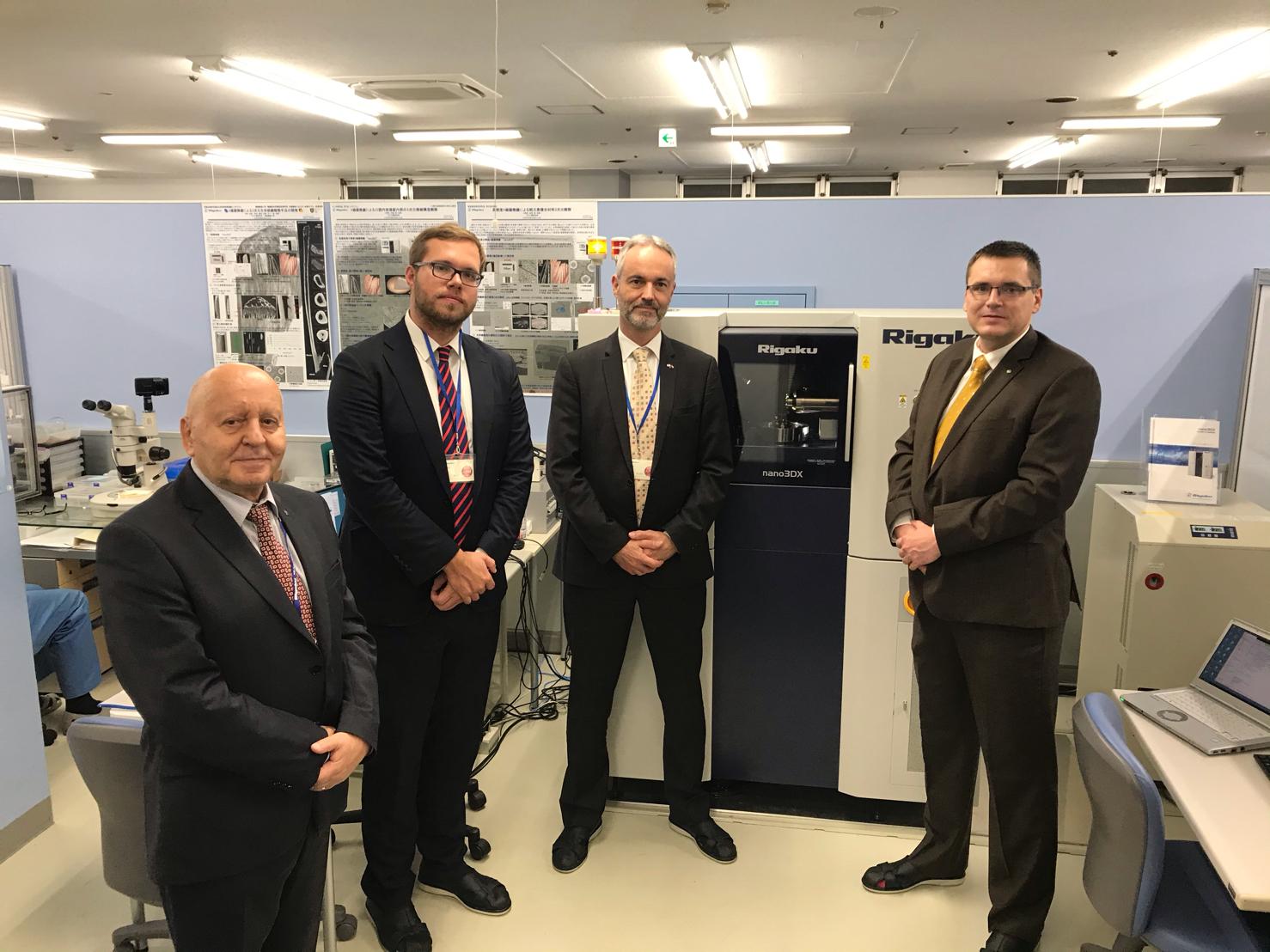 A Memorandum of Understanding was signed directly in Tokyo on behalf of Radimir Vrba, Director of CEITEC BUT, and Research Group Leader of the Materials Characterization and Advanced Coatings, Jozef Kaiser. On behalf of Rigaku, in the presence of Hikaru Shimura, Corporation Director, the agreement was signed by Kazuhiko Omote, Ladislav Pína, Head of X-ray Laboratory and Managing Director of Rigaku Innovative Technologies Europe. Stanislav Beneš, Head of the Economic Section of the Embassy of the Czech Republic in Tokyo, and Richard Schneider, Head of the CzechInvest Office in Tokyo, also attended the signing ceremony.
Both sides agreed on mutual support in research and development of imaging and analytical non-destructive methods for computed X-ray tomography, both for basic research and for selected industrial applications. More concrete cooperation will be reflected in the exchange of scientific and technical staff or, for example, in the joint organization and participation in scientific conferences, workshops or fairs. The agreement also includes facilitating access to measured technical data or promising training and education of researchers to increase their competence.
"An important milestone in the cooperation of CEITEC BUT and Rigaku was 2014, when Japanese experts chose CEITEC for the very first foreign installation of a unique X-ray computer nanotomograph. Since then, we have been systematically deepening and expanding our cooperation in order to maintain its mutual advantage over the long term. This collaboration gives our students a unique opportunity not only to learn the corporate culture at Rigaku Corporation, which is clearly one of the world leaders in their field, but also to participate in scientific and development work related to applications that have a real chance to worldwide application in a new commercial device in the near future," says Jozef Kaiser, who is one of the leaders in his field with his group.
---
Author: Kateřina Vlková