3rd Bruker FTIR and Raman User Meeting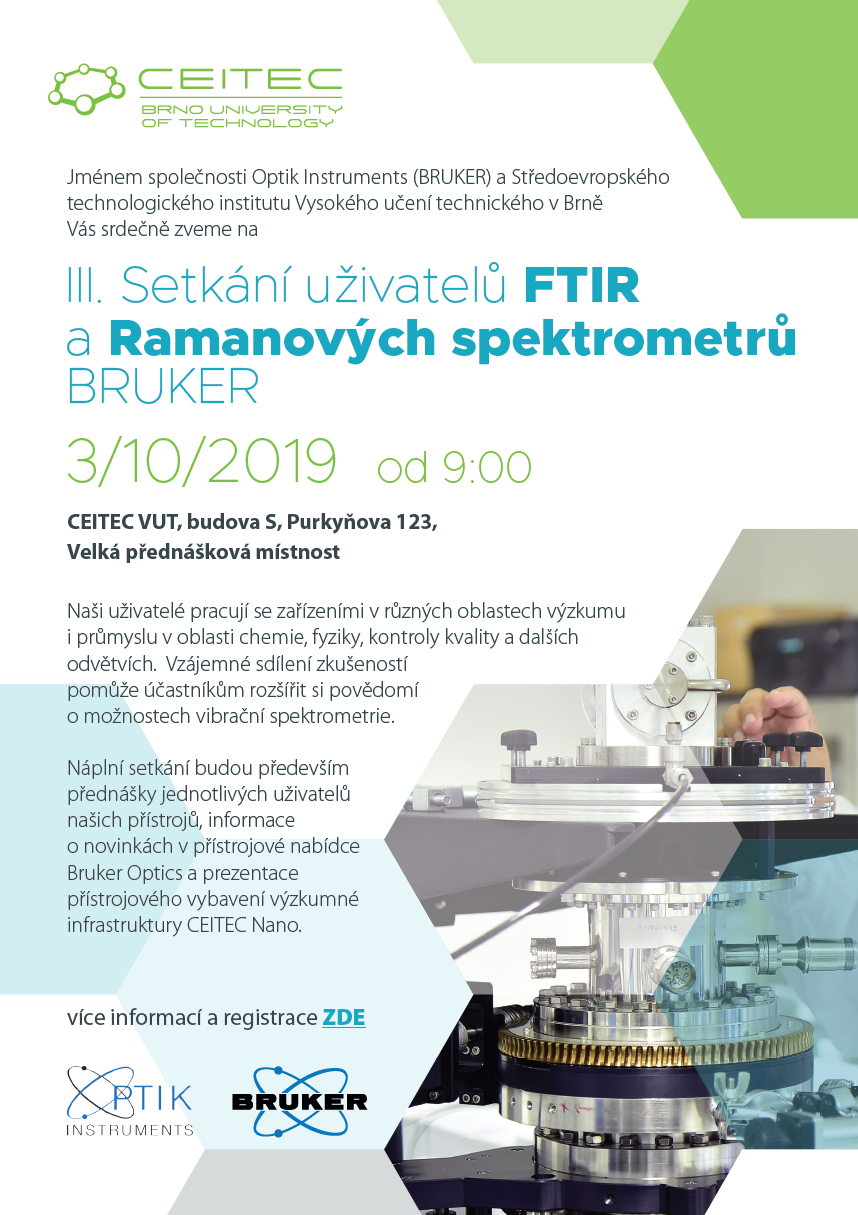 WHEN: 3rd of October 2019, event starts at 10:00
WHERE: CEITEC BUT, Building S, Purkyňova 123, lecture hall, 1st floor
REGISTRATION: Extended till September 27 via registration form on CEITEC webpage (you can find on the bottom of this page).
FORM OF EVENT:
Morning session will be held in Czech language. After an introduction of Bruker instrumentation and innovations in the field of vibrational spectroscopy, lecture of representative from CEITEC research center will follow. The main part of the morning session will consist of user lectures focused on practical use of our instruments for industrial and routine applications. Afternoon session will be held in English language with focus on various scientific applications.
We also offer excursion in research laboratory of infrastructure CEITEC Nano, before the official start and after the of event.
PROGRAM:
9:00
Optional excursion into laboratories of research infrastructure CEITEC Nano – please if you want to take part, book the excursion in the registration form below.
Morning session (Czech)
10:00
Official opening
10:15
Overview of instrumentation, interesting applications and news from BRUKER Optics (J. Neuman, Optik Instruments)
10:35
Presentation of research infrastructure CEITEC Nano (R. Kolář, CEITEC)
11:00
Coffee break
11:20
Přehled zajímavých aplikací (D. Matoušek, Optik Instruments)
11:40
Čištění povrch kovů pro aplikace ve vakuovych komorách (V. Prysiazhnyi, Přírodovědecká f. JČU)
12:00
Techniky termické analýzy pro stanovení rozkladných produktů (M. Kule, NETZSCH-Gerätebau GmbH)
12:20
Praktické využití NIR spektroskopie při kontrole jakosti surovin v pivovarství (J. Vlček, Budějovický Budvar n.p.)
12:40
Využití IČ mikroskopu při vývoji průmyslových nátěrových hmot (A. Matoušek, K.Jeřábková, D. Navrátil; ROKOSPOL a.s.)
13:00
Společný oběd
Odpolední blok (ENG)
14:00
Vibrational structural biology for ELIBIO (G. Fuertes, P. C. Andrikopoulos, Y. Liu, A. S. chaudhari, B. Schneider; BIOCEV Prague)
14:20
Bruker IFS 120 and 125HR – High resolution spectroscopy and its applications (A. Knížek, S. Civiš; J. Heyrovsky Institute of Physical Chemistry)
14:40
Infrared resonances in absorption, reflectance, and ellipsometric spectra (J. Humlíček, CEITEC MU)
15:00
Analyses of minerals and gemstones using portable sequentially shifted excitation Raman spectrometer
(A. Culka, J. Jehlička; Institute of Geochemistry, Mineralogy and Mineral Resources, Faculty of Science, Charles University)
15:20
Coffee break
15:40
The applications of FTIR spectroscopy in the study of painting materials
(S. Garrapa, Institute of Anorganic Chemistry CAS/ALMA laboratory)
16:00
Research of Synthetic Materials in the Modern Library Collections by Analytical Methods (V. Knotek, P. Vávrová, N. Šipošová, J. Neoralová; National library of Czech Republic)
16:20
Characterization of solid samples by FTIR spectrometer VERTEX 70v (M. Mičica, K. Postava; Nanotechnology center VŠB-TUO)
16:40
Infrared spectroscopy of a-SiC:H films (N. Aboualigaledari, V. Čech; Faculty of Chemistry, Brno University of Technology)
17:00
Zakončení, diskuze
Dobrovolná exkurze laboratořemi výzkumné infrastruktury CEITEC Nano – v případě zájmu si prosím zamluvte účast v přihlášce
ADDITIONAL INFO:
Lunch and catering are included free of charge.
We ask Czech speaking participants to attend at least 15 minutes before the official opening.
We ask English speaking participants to attend at least 15 minutes before lunch.
INFORMATION FOR SPEAKERS:
We ask you to prepare you lecture with rather popular-scientific approach to make your work understandable for other participants from different branches of research. Presentation should include your examples of use of FTIR and Raman spectrometers and microscopes and OPUS software. It can contain sampling, measurement procedures, data manipulation and evaluation etc.
Presentations in form of * .ppt, * .pptx
Please send your presentation till September 30, 2019 on e-mail address david.matousek@brukeroptics.cz
ACCESSIBILITY:
By car - if traveling by car, you can park next to the office building "S" CEITEC BUT. After parking the car you must report to CEITEC.
Public transport - bus 53 and E56 is located right outside the area of CEITEC BUT. The final stop of tram no. 12 is about 3-minute walk away from CEITEC BUT.
MOŽNOSTI PARKOVÁNÍ:
Před budovou CEITEC VUT na parkovišti. Po zaparkování nutno nahlásit vůz na recepci CEITEC VUT.
Recommended accommodation:
Organizers do not pay for and book accommodation for participants. It is everyone's individual responsibility. Accommodation solves each participant individually on his own.
We recommend following accommodation with good rating and near the place of our user meeting:
Pension EDISON
Edisonova 1,
612 00, Brno
Phone: +420 725 450 533
https://www.pension-edison.cz/
CONTACT TO ORGANIZERS:
Organizer, registrations (CEITEC):
Ing. Richard Kolář
Tel.: + 420 54114 9207
E-mail: richard.kolar@ceitec.vutbr.cz

Organizer, program (Optik Instruments):
Ing. David Matoušek
Phone.: + 420 607 177 455
E-mail: david.matousek@brukeroptics.cz

Leader of User meeting (Optik Instruments):
Ing. Jan Neuman, Ph. D.
Phone.: + 420 605 287 732
E-mail: jan.neuman@brukeroptics.cz