11. May 2020
EuroSTEMPeers is the European chapter of STEMPeers (a US registered non-profit organisation) dedicated to creating a peer-based mentoring and support platform for the STEM (Science, Technology, Engineering, and Mathematics) workforce of the world. The STEMPeers organisation was founded in 2017 in the United States with the aim to connect STEM graduates with a global network of mentors, who could provide empowerment, and support growth in the professional careers of its members. Currently, the organisation has more than 15,000 members from 69 countries, and helps them during their career transitions to a variety of industrial, academic, and entrepreneurial roles. After successfully hosting five STEMPeers meetings (Boston 2017, Brno 2018, New York 2018, Berlin 2019, and San Francisco 2019), the EuroSTEMPeers 2020 meeting, targeting European early stage researchers, and was originally planned to occur in Heidelberg, will take place on May 16th, 2020 in the virtual form.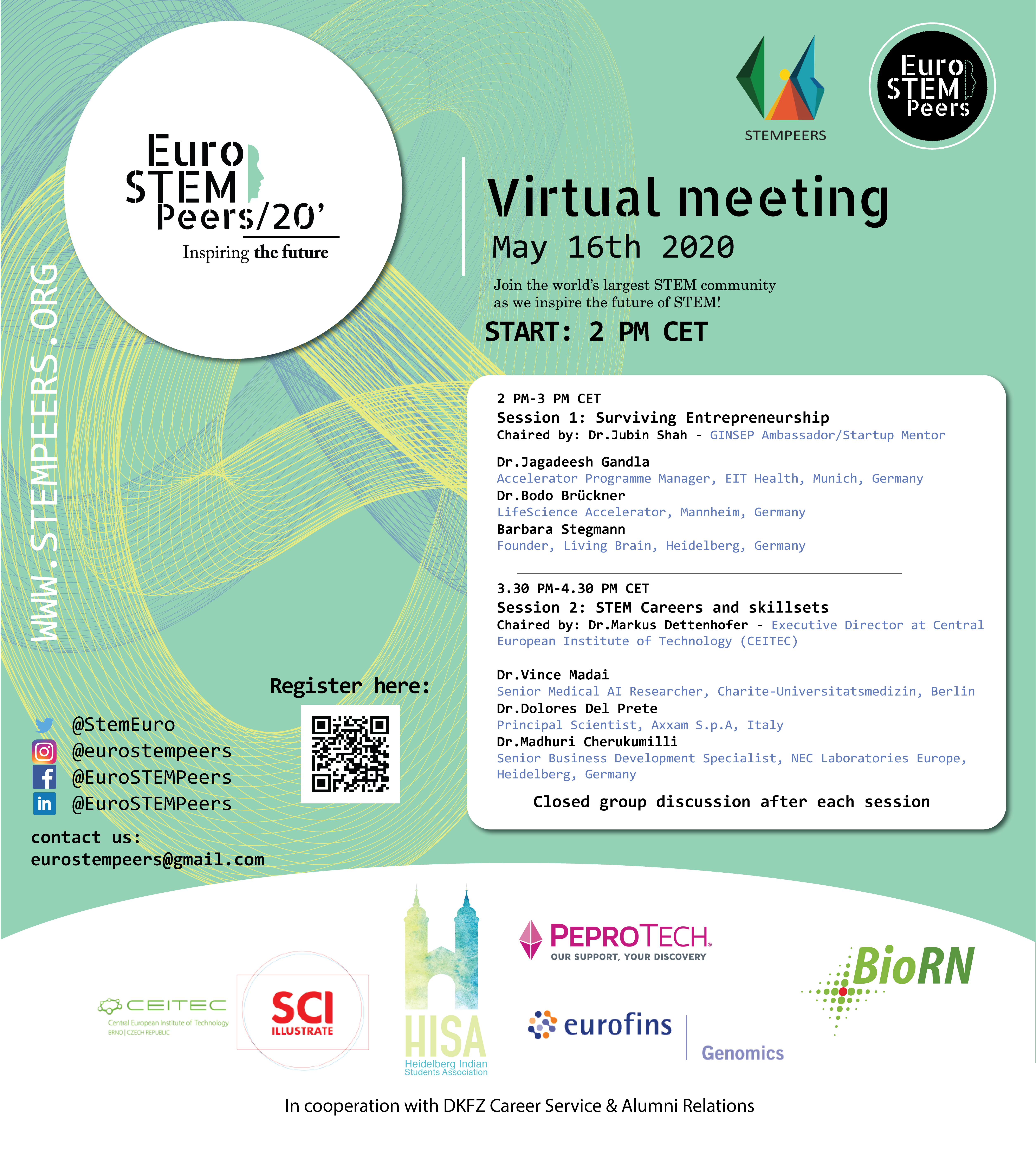 We asked Taraka Ramji Moturu, a founding member of EuroSTEMPeers, a few questions about his engagement in this international mentoring organisation and about the upcoming events for early stage researchers:
Can you tell more about this EuroSTEMPeers initiative and how is it differentiated from STEMPeers?
EuroSTEMPeers is the European chapter of the parent organisation, STEMPeers. The ecosystem in Europe is very different from the USA, and hence, to provide a better understanding of the European market and various professional roles, we initiated EuroSTEMPeers to cater to scholars within Europe and to those that are interested in coming to Europe. Several PhD students and early stage researchers from CEITEC Masaryk University, including Agnieszka Szmitkowska, Anzer Khan, Nandan Vardarajan, Michelle Paz, Subash Narsimhan, Soňa Valuchová, Dragana Vukic and I, have been actively engaged in the organisation of the EuroSTEMPeers conferences in collaboration with other colleagues from various institutions in Germany.
Why do you think there is a need for such a mentoring platform?
The idea stemmed from the fact that most PhDs will not be able to transition into faculty roles due to limited positions, which has led them to wonder about the other possibilities at universities and beyond. We realised that it is essential for scholars to find the relevant information directly from the experts in industry, as well as PhDs who have transitioned to various roles beyond academia. The STEMPeers platform has provided inspiration, and with the support of CEITEC, we (PhD students of CEITEC) kick-started the EuroSTEMPeers conference in Brno, hosted by CEITEC Masaryk University. The institute has been extremely encouraging about the idea and provided plenty of support when we began the initiative.
Can you tell the readers more about the annual conference that has been organised?
So far, we have been organising annual networking conferences in the US and Europe since 2017, with different themes every year. The idea is to bring early career researchers, industrial experts, entrepreneurs, policymakers, and academics together in person to discuss emerging career opportunities in STEM subjects. While we discuss emerging careers, we also work towards helping attendees to grow as responsible professionals by engaging them in discussions, including (but not limited to) mental health issues and gender disparities.
What do you think is the greatest benefit for EuroSTEMPeers members?
STEMPeers has created a peer-based ecosystem for STEM researchers and a partnership with academics and industries. The goals are to nurture the members as future leaders that can drive innovation in our communities, and to engage them in discussions that are relevant to emerging careers, along with understanding the needs of gender disparities and mental health. One such initiative is our mentoring program called Gurukool, which is an extensive 3-month program in which mentees receive real-time feedback from multiple mentors during their career transitions to aid in their professional growth within their organisations.
Can you share a short story about how a mentor helped you to navigate through a difficult time?
I am a Plant Biologist and Bioinformatician by training. Through my engagement with EuroSTEMPeers, I realised how quickly the field of data science has been evolving. Data is something that I am passionate about. Through this community, I have been able to network with experts and other relevant individuals in the data science field. Through regular discussions with them, I have gotten a closer look at the sector that I am interested in moving into in the near future.
Why did you decide to join the organising committee and become an active member of the organisation?
Organising such events is one of the most enjoyable parts of this initiative. I have had a chance to work with different kinds of people across different time zones. Also, networking with industrial experts in-person has been a great opportunity.
What did you learn during your engagement in EuroSTEMPeers?
Firstly, I gained great mentors that have been providing me with guidance and motivation as my role models. Secondly, engaging in different initiatives has significantly improved my transferrable skills, such as creativity, persuasion, collaboration, emotional intelligence, and adaptability, which are currently some of the most in-demand skills.
Why do you think it is important to be proactive?
With the increasing competition and demand in the current job market, having only a PhD degree is not sufficient enough to land a dream job. One must understand what he/she is interested in achieving by moving out of their comfort zones, by engaging in various activities, and finding what fits them best. Being proactive also helps one to pursue their interests and creates a thirst for developing new knowledge. Some aspirations may not be achievable without trying things out. Being involved in these activities helped me to move out of my comfort zone, to think outside of the box, and to explore myself further.
What can visitors expect from the upcoming virtual EuroSTEMPeers meeting?
The program for the virtual event includes two panel sessions, followed by a 1-on-1 discussion with speakers for a small group of participants. The two panel discussions that we are eager to engage the participants in this year are:
Surviving entrepreneurship, and
STEM careers and skill sets
Is there something you would like to share with other PhD students, such as career advice that you see as the most valuable after your experience?
PhD students are smart and have a great skill set, but they often lack direction and lose motivation. I highly recommend for all of my fellow PhDs to be self-driven, talk, share your challenges with your peers, and listen to different transition stories. It is the first and most important step to understanding where your interest lies and what you are good at, and that the next step will be finding the right mentors that can support you at the different stages of your career.
More details about the community are found on our website: www.stempeers.org
Mode details and registration for the upcoming EuroSTEMPeers meeting are HERE.
About Taraka Ramji Moturu
Taraka Ramji is a doctoral research fellow at the Central European Institute of Technology in Brno, Czech Republic. His specialisation includes plant biology and bioinformatics. He is a pro-active scientist and is involved in several student-led initiatives at CEITEC. He is a board member of STEMPeers, a non-profit organisation with 15,000+ members that is dedicated to supporting the platform for the STEM workforce of the world. He is also a founding member of the EuroSTEMPeers initiative, which aims to cater to the growing need for early stage career researchers in Europe to have a cross-disciplinary networking platform for mentoring, empowerment, growth, and support. He is also a member of Prague Hub Global Shapers (an initiative of the World Economic Forum), which focuses on issues that receive little attention in the public discourse for policymaking and societal relations at a local scale.
About the CEITEC PhD School
The CEITEC PhD School is an international, interdisciplinary doctoral program. Students from all over the world can study in English in one of the following study programs: Advanced Materials and Nanosciences, or Life Sciences and Molecular Medicine. All students have access to modern research infrastructure and high-quality education in the vibrant and interdisciplinary scientific community that regularly hosts lectures given by science celebrities. The PhD school at the CEITEC institute was founded in 2014 with the aim to attract the most talented students from the given fields, and raise them into globally competitive researchers.
The CEITEC PhD School is based on the "Principles for Innovative Doctoral Training" issued by the European Commission in order to unify the quality of European doctoral studies. These principles include, for example, excellent science, an attractive institutional environment, opportunities for interdisciplinary research, cooperation with industry and potential employers, gaining international experience, and the development of transferable and soft skills. The success of the CEITEC PhD School is also evidenced by the ever-growing number of applicants, which has grown more than tenfold inthe last five years.
PhD students at CEITEC have many opportunities for career development, as well as opportunities for very important scientific networking, such as during the two-day PhD Retreat organised by the CEITEC PhD Student Committee, the popular quarterly science-themed pub quiz called Science Mixer, or as part of the regular Friday CEITEC Tea Time.